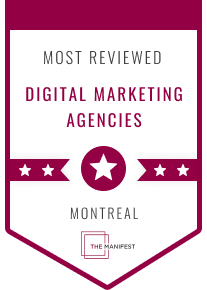 At Courimo, we are passionate about what we do. This transpires not only in the quality of our work but also in the results we deliver — increased click-through rates, boosted digital sales, higher ROIs, and heightened online visibility.
We are an award-winning Google Ads agency that speaks a lot about our PPC services. In addition to PPC, we specialize in SEO so that we can guarantee your Google rankings in 90 days. These two services enable us to develop an optimized, high-converting, and mobile-friendly website.
We are proud to be recognized as one of the leading agencies on The Manifest, naming Courimo a most reviewed service provider in Montreal's digital marketing space. A business blog and reviews site, The Manifest compiles and analyzes practical business wisdom for innovators, entrepreneurs, and small and mid-market businesses.
To better understand how we got here, let's take a look at where it all started.
In 2017, Elie Wahnoun established Courimo to help small, medium-sized and large businesses achieve their business goals through online marketing services.
In 2021, we worked on an SEO and PPC campaign project with a coworking space startup. The client hired us to help with their SEO performance and wanted to be on the first page of Google search results.
"Courimo has truly helped us. In fact, around 80% of inquiries and calls to our business come from Google now — we're on the first page of search results for coworking spaces." – Marketing Manager, Coworking Space Startup
In 2022, The Manifest released its list of the leading companies, naming Courimo as one of Montreal's leading and most reviewed digital marketing companies. The Most Reviewed Company Award on The Manifest features the top 15 companies on each listing page that have received the most number of new reviews in the past 12 months.