Search Engine Optimization (SEO)
Guaranteed Google rankings in 90 days or we work for FREE !
Don't waste your time with promises, when we guarantee results ! Our no-risk offer will get you on page 1 of Google in 90 days* OR we'll work for  FREE !
As you know,
Google has been #1 search engine for years and one hardly needs to introduce readers to Google.
it is no secret that the first place where customers look for their favorite products is online. A simple Google search provides them with every detail about the product they are searching for.
However, you MUST know that according to the google report, 94% of the account population (YOUR POTENTIAL CUSTOMERS!) on google don't even click at the second page, which means…
The big appeal to ranking on Google is clearly the massive potential traffic. The downside is that everyone else wants this traffic too, making organic search the most competitive and paid search often more expensive than on other sites.
That's why hiring a digital agency is essential when it comes to making your website SEO-friendly; otherwise, no matter how good is your product or service, it will just be a grain of sand buried in the google desert.
So, take the first step by booking your FREE 30-Minute Strategy Call with our expert Today.
Go-to for expertise & knowledge!
Karen Elgemayel
2021-02-11
I strongly recommend Courimo for all digital needs. Always professional and efficient. Looking forward working on another project!
Frederick boileau
2021-02-04
Excellente compagnie je la recommande fortement ! Mon entreprise a augmenter ses revenus grâce à Courimo
Daniel Abraham
2020-05-28
Happy to work with Courimo again on other Online marketing, social media and Google ads project, if you're looking to increase website traff, effective online marketing they're best for the job I highly recommend. Thanks
Working with Courimo gave us the confident we share with our customers knowing that beyond the results, we have a great team that we can rely on to deliver professional analysis that we can use for other areas of the campaign. Highly recommended if you are looking to work with a local, responsive, professional and result oriented advertisment agency.
One of the most open and transparent companies I have ever worked with. Appreciate the clear communication and trust.
Very professional!
Caterina Mazzone
2020-01-01
Elie is such a pleasure to work with! Always professional, friendly, and ready to go that extra mile!
We finally have a stunning website! Thank you to Elie and the team at Courimo for taking the time and making sure we get the perfect website for our company!
Ready To Boost Your SEO Rankings ?
Let's Talk About Your SEO Project.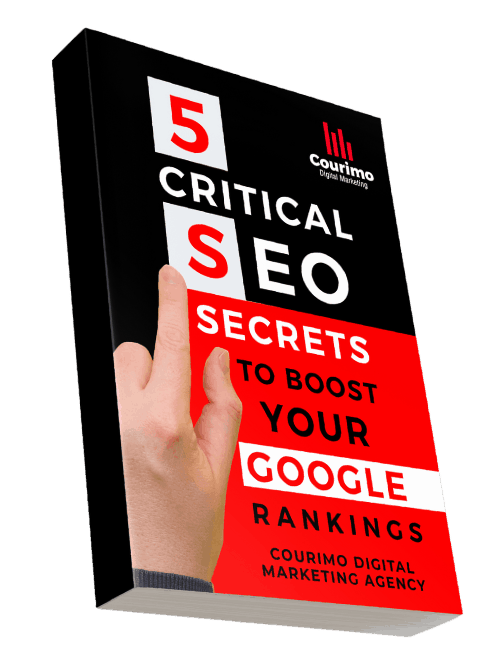 5 Critical SEO Secrets To Boost Your Google Rankings